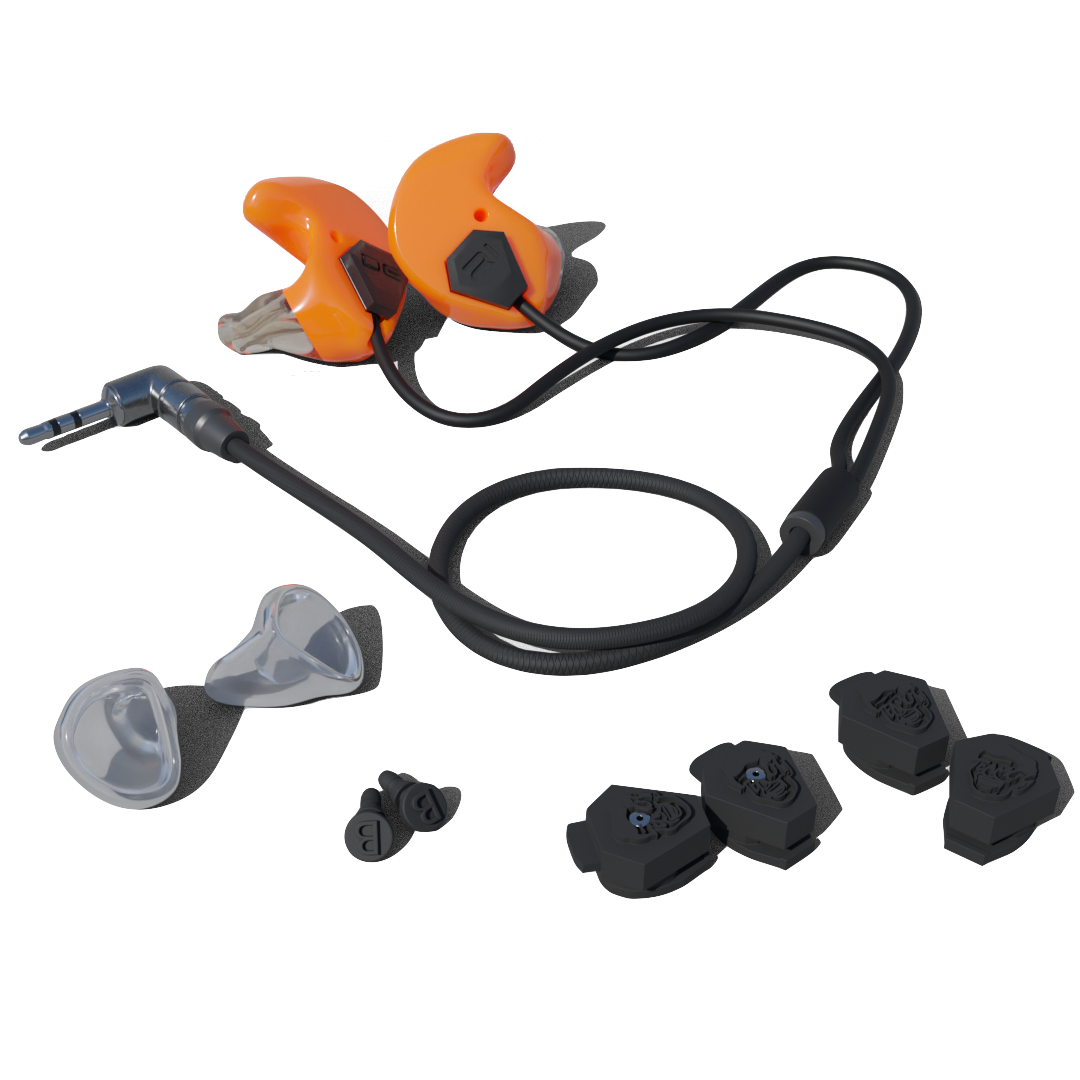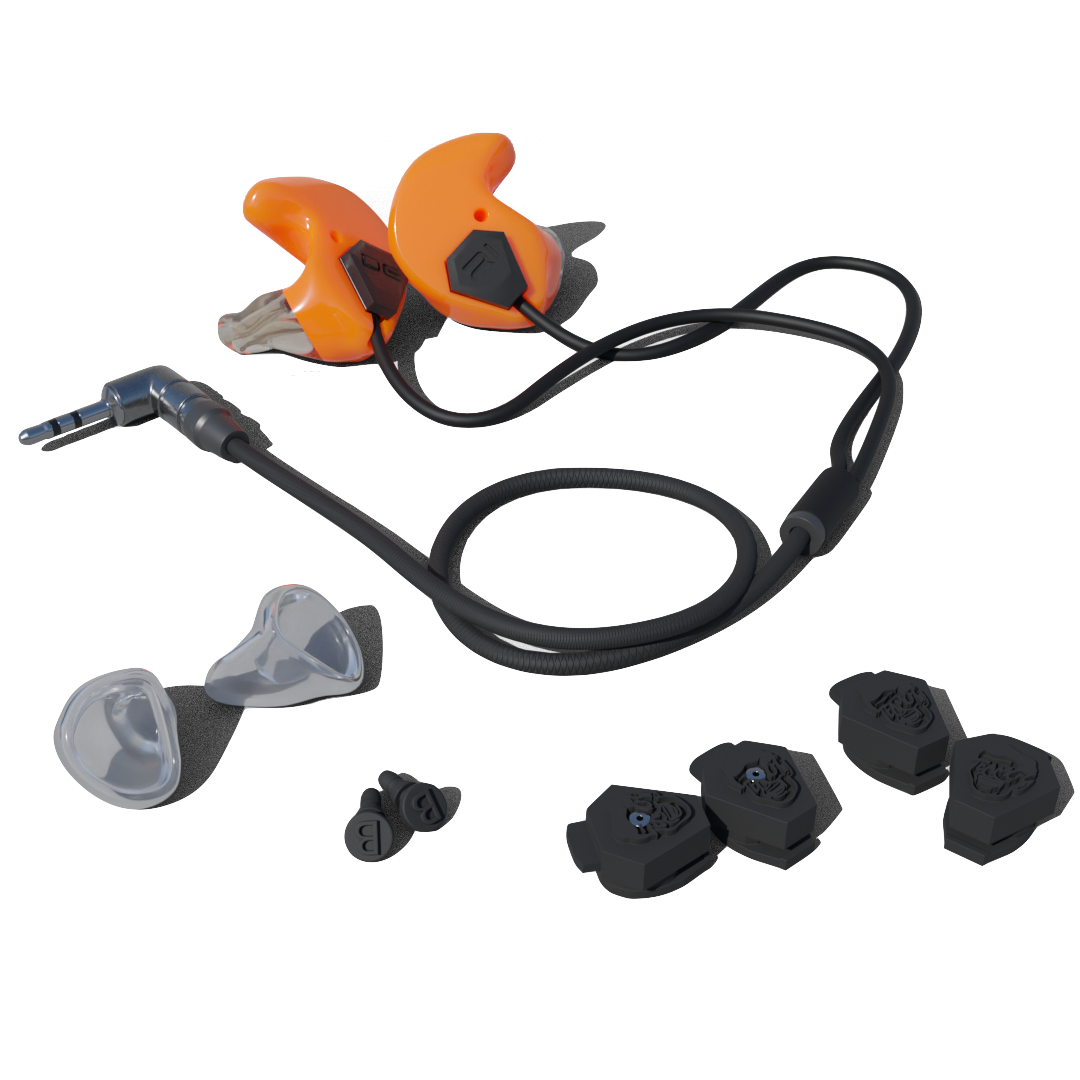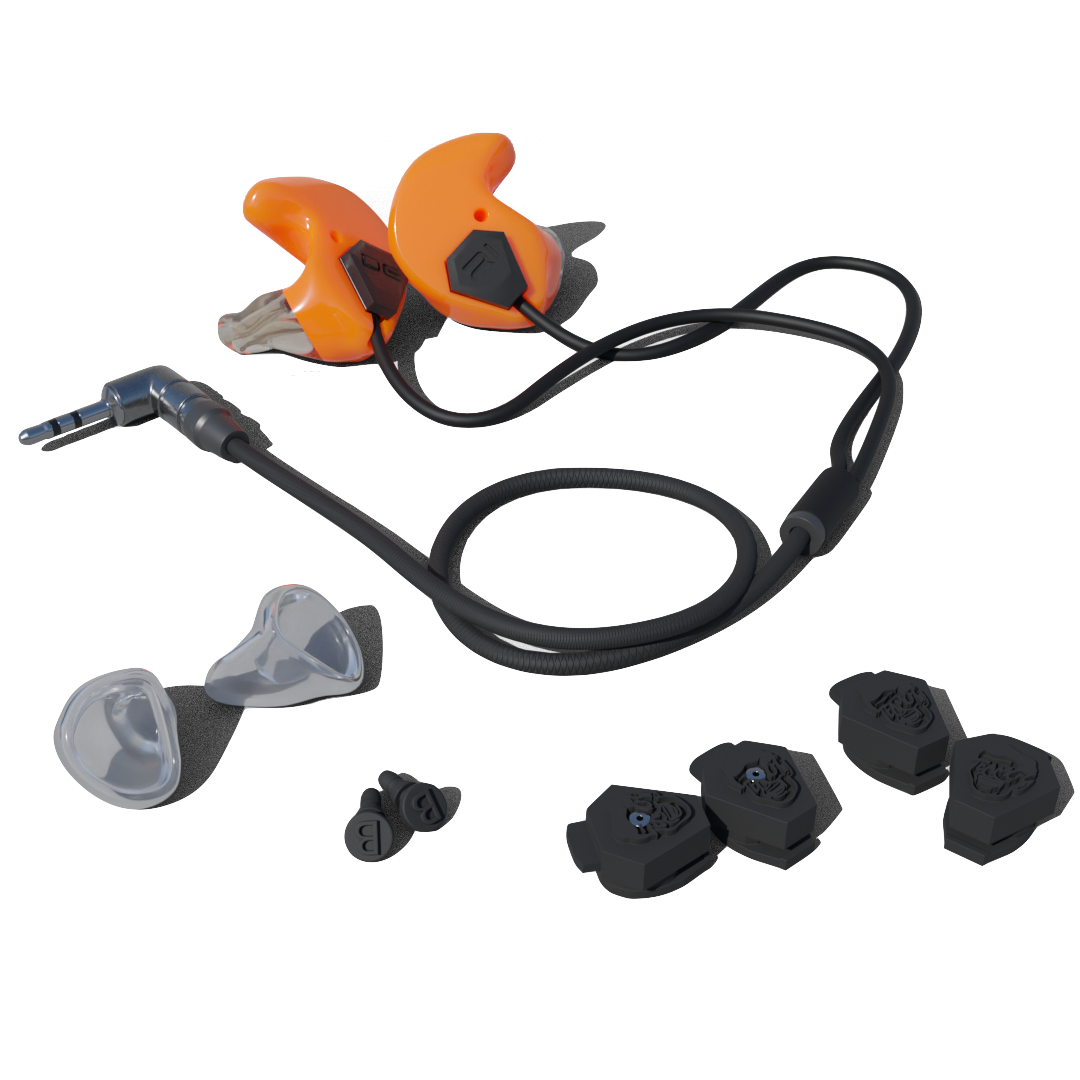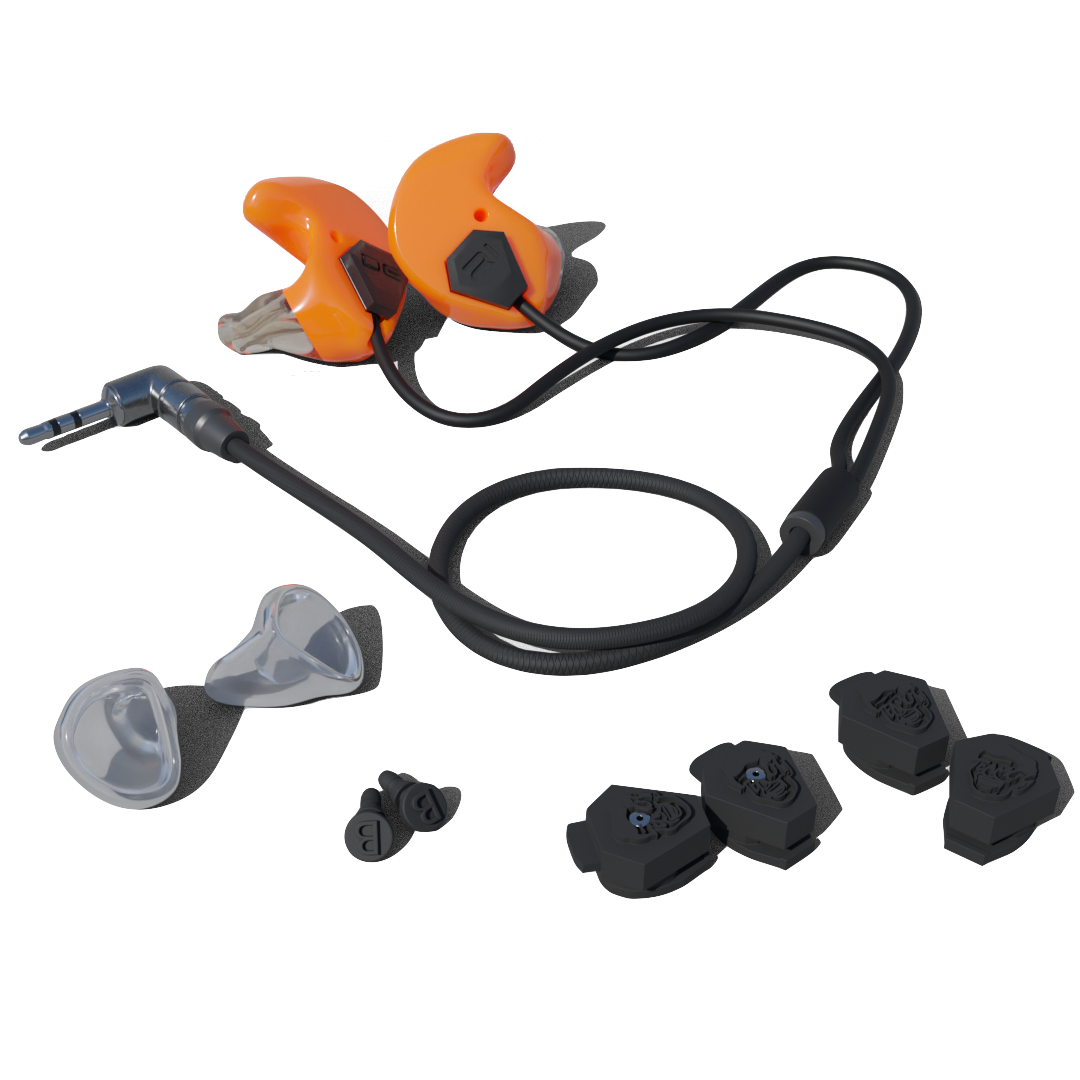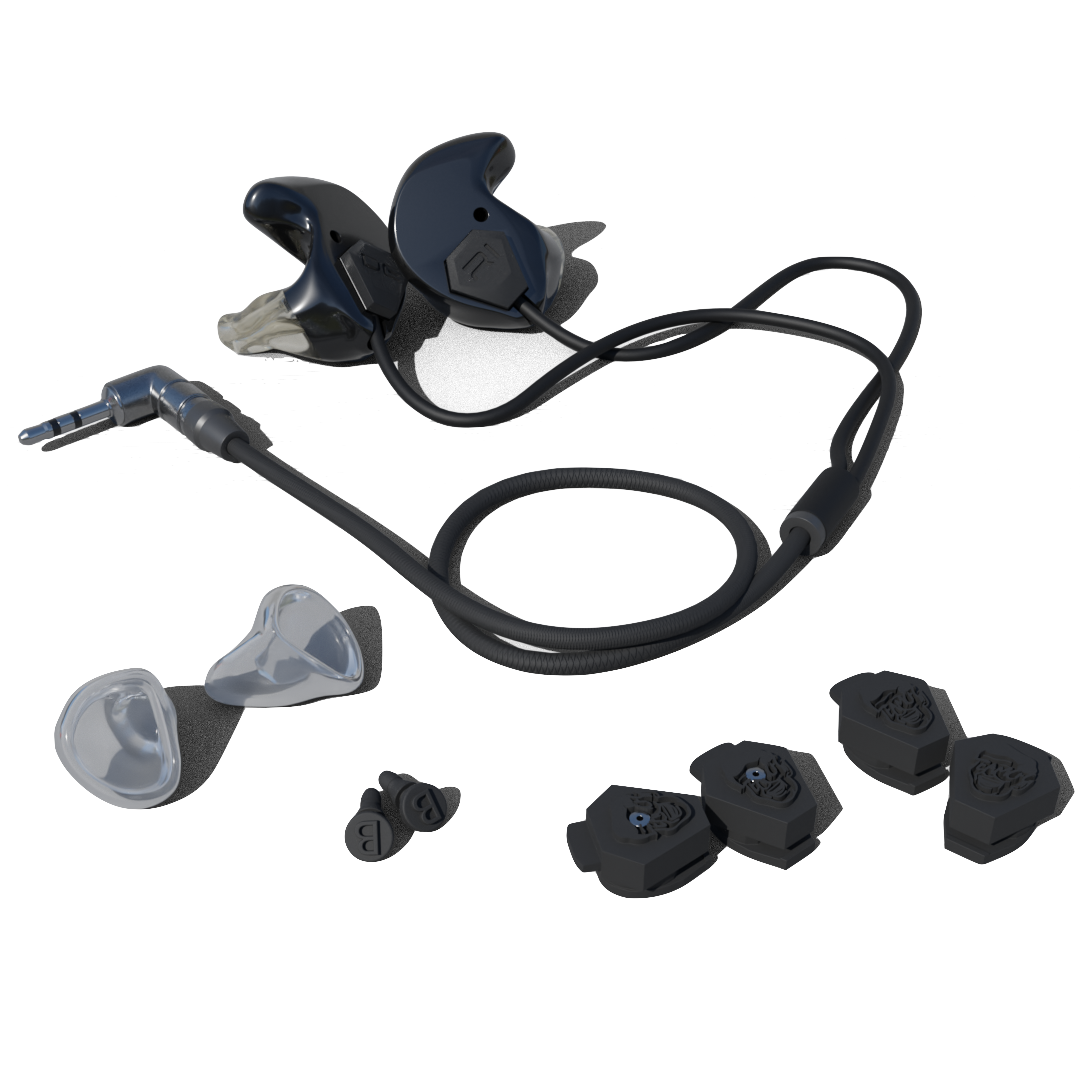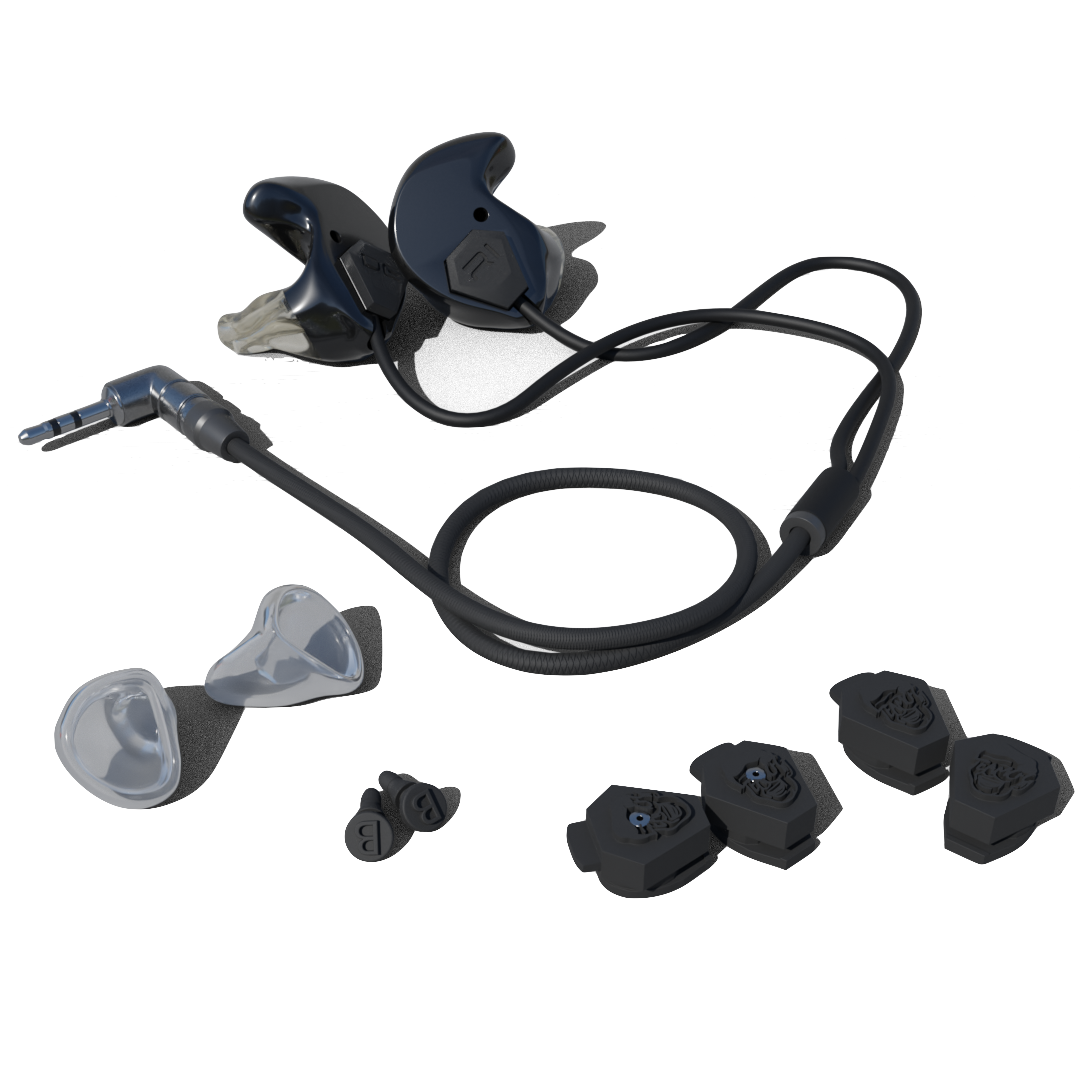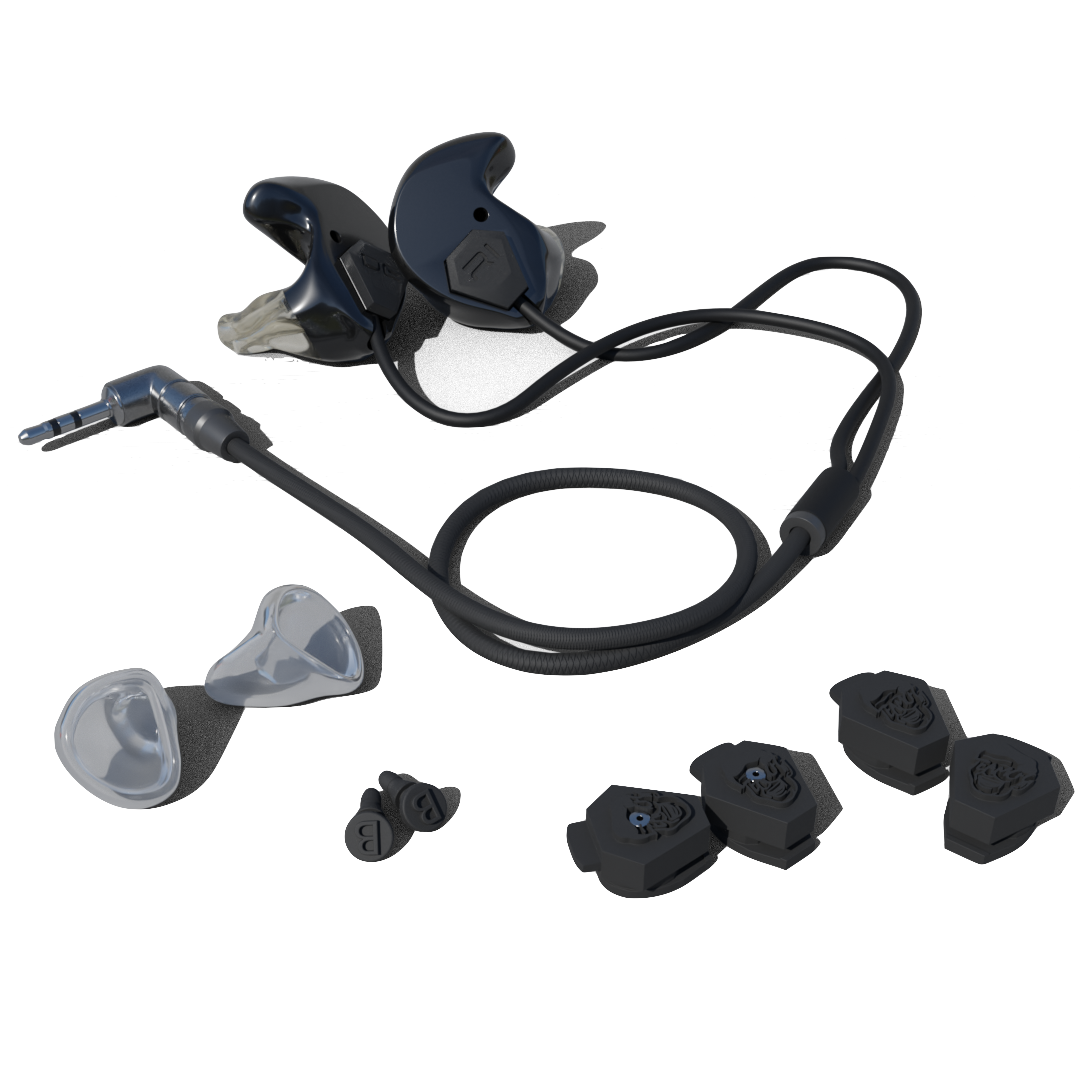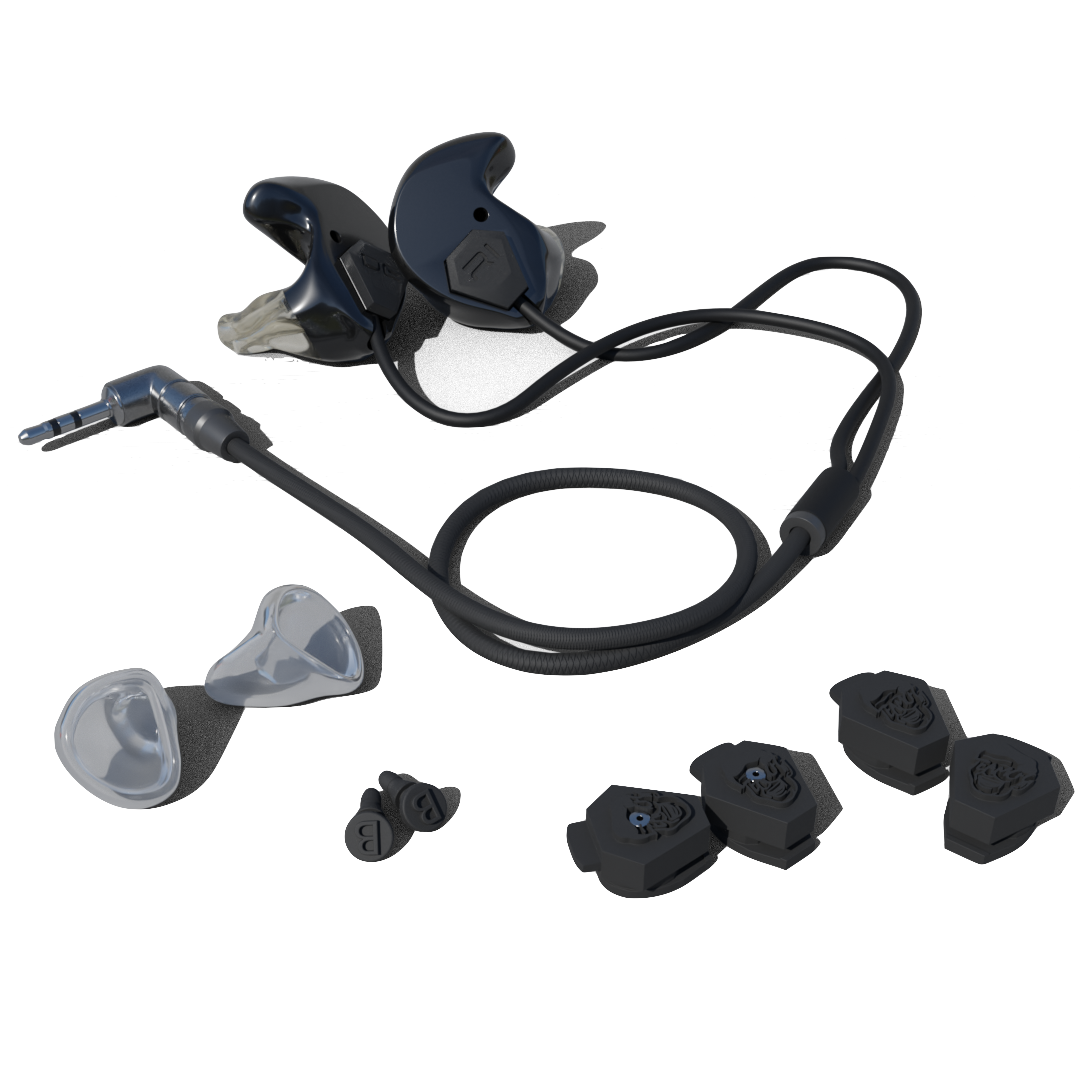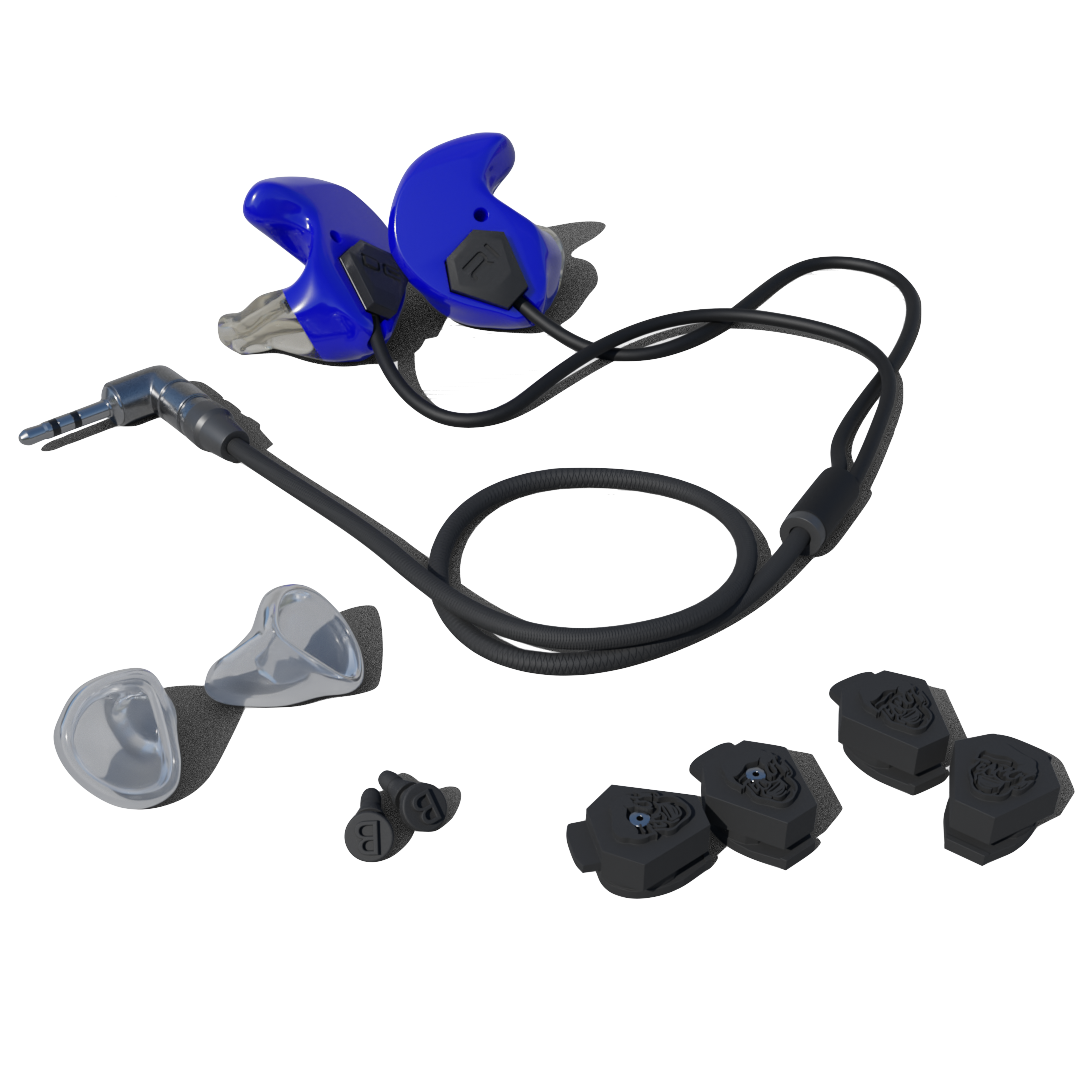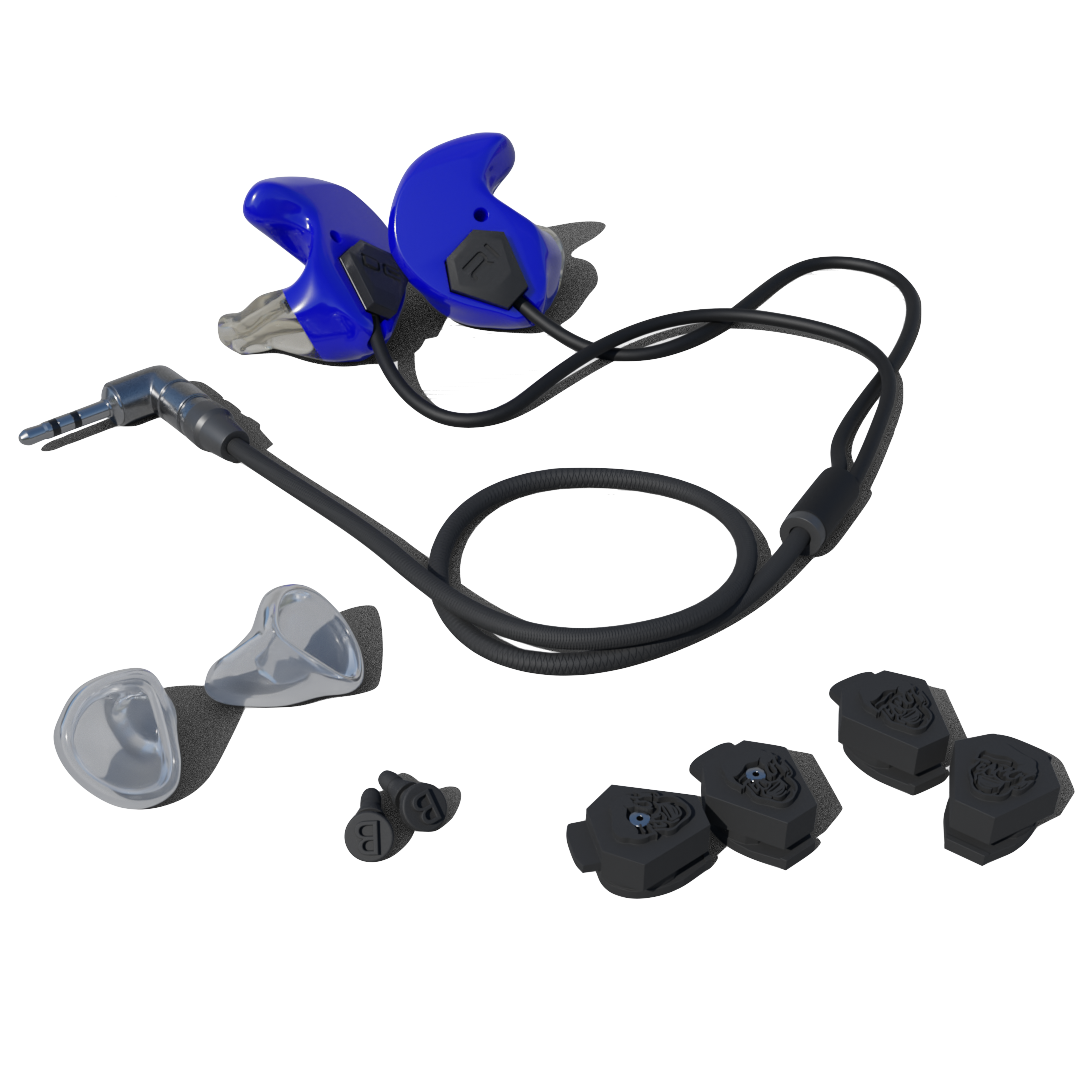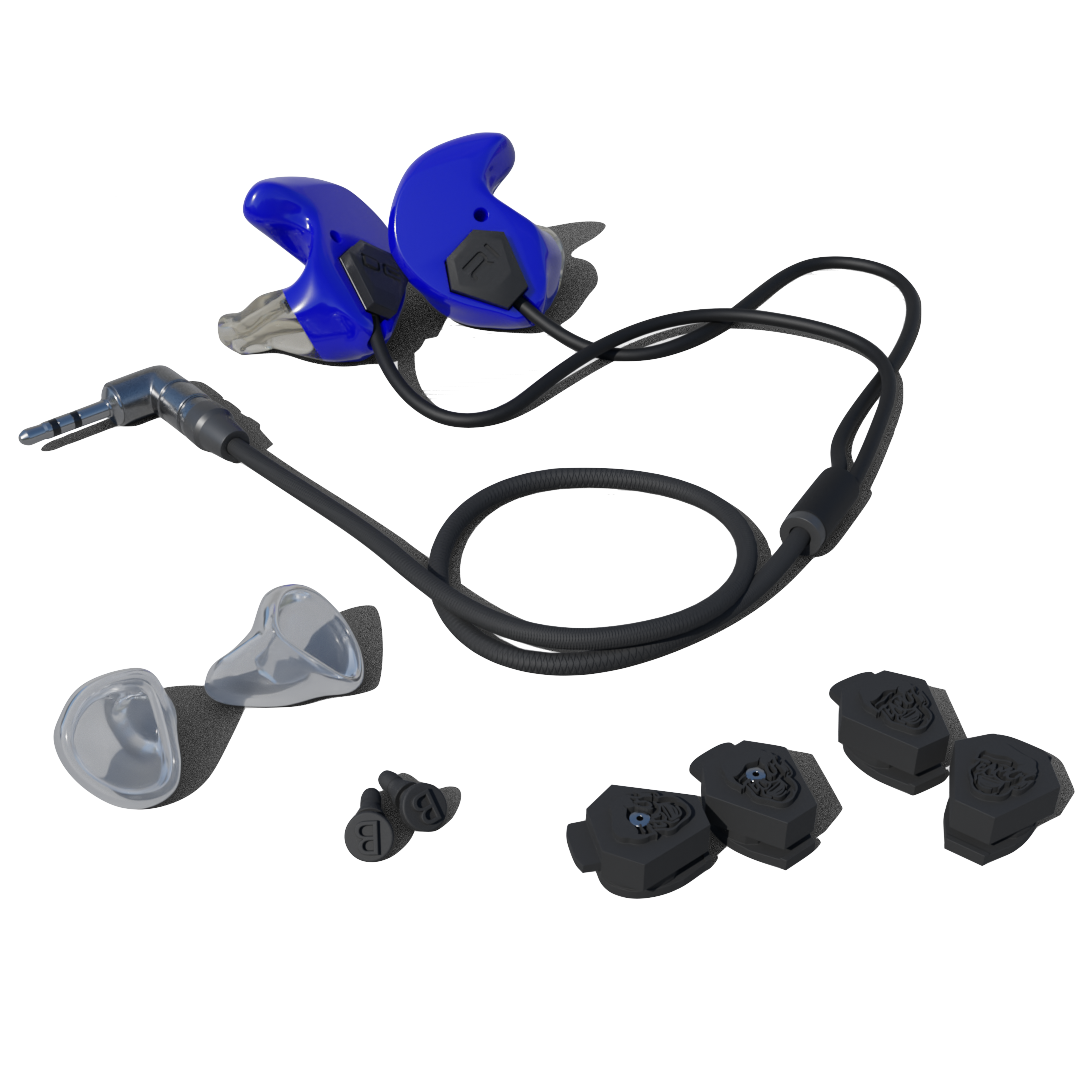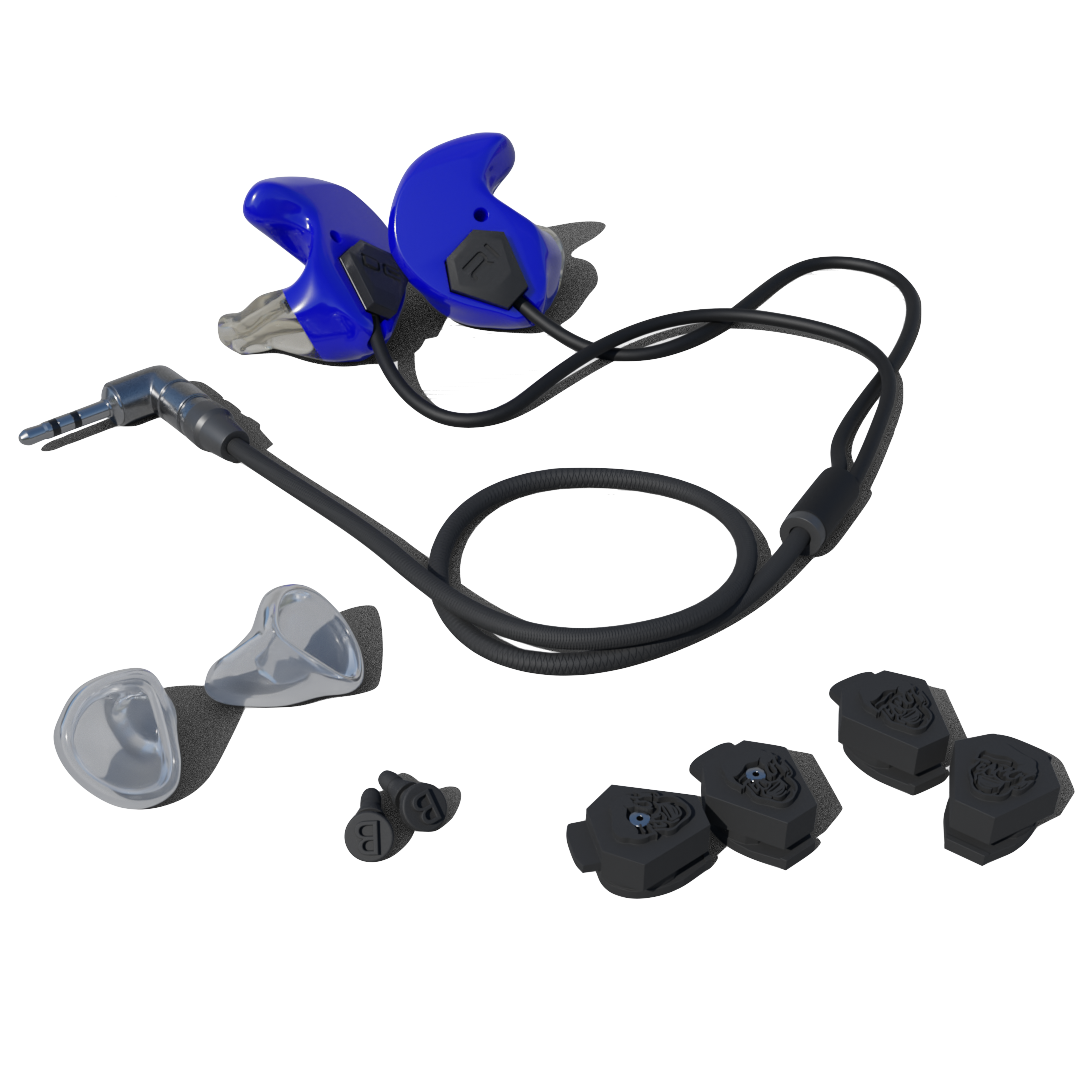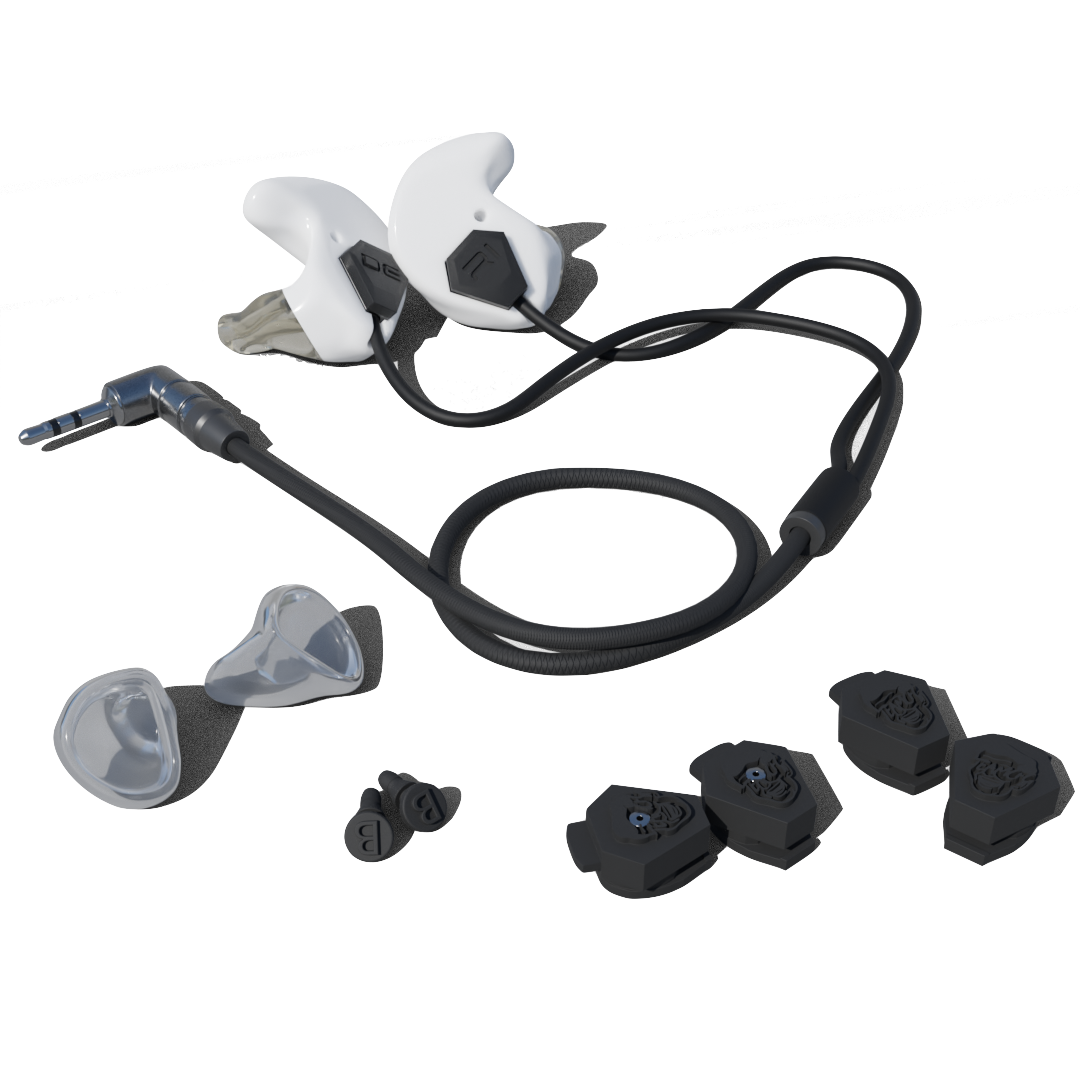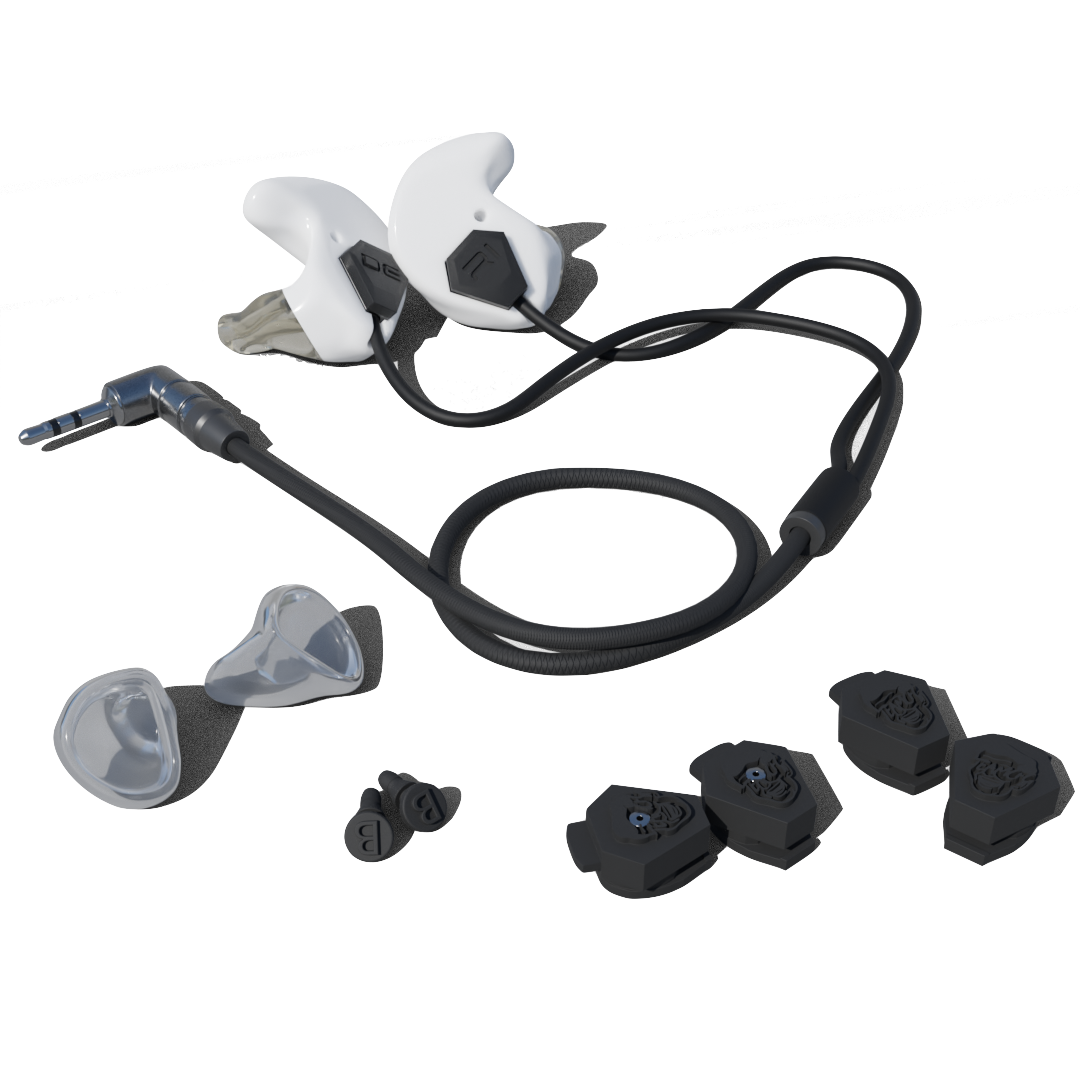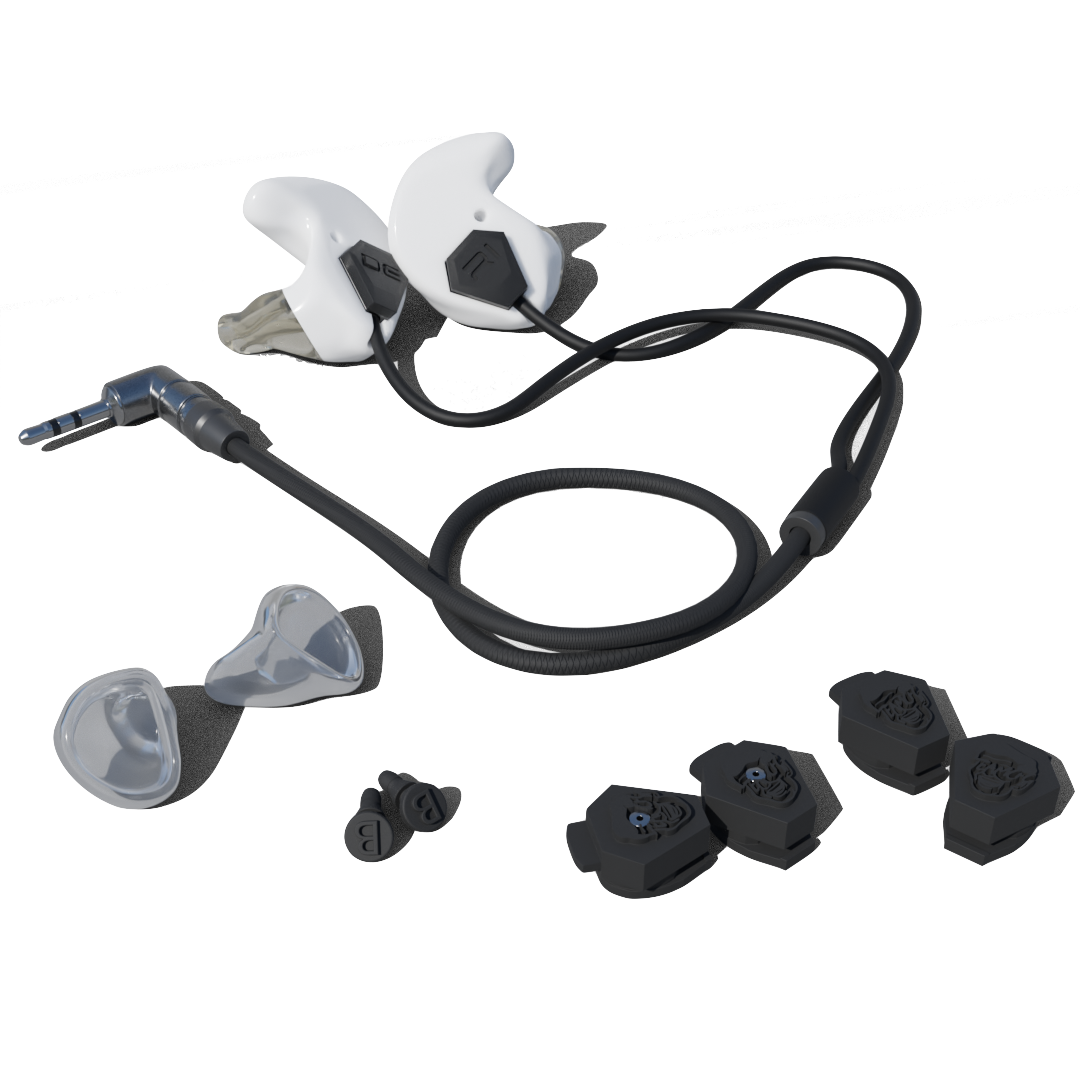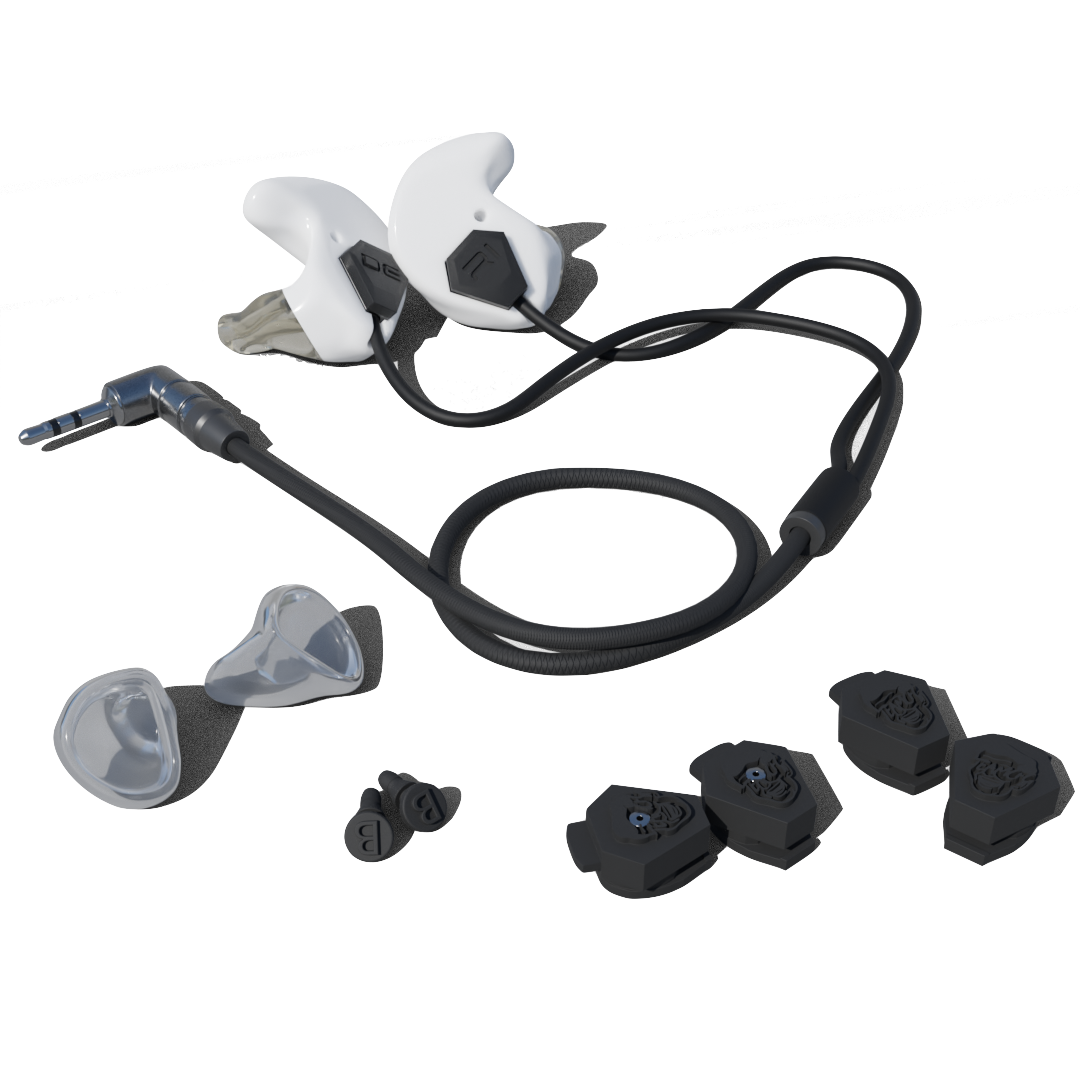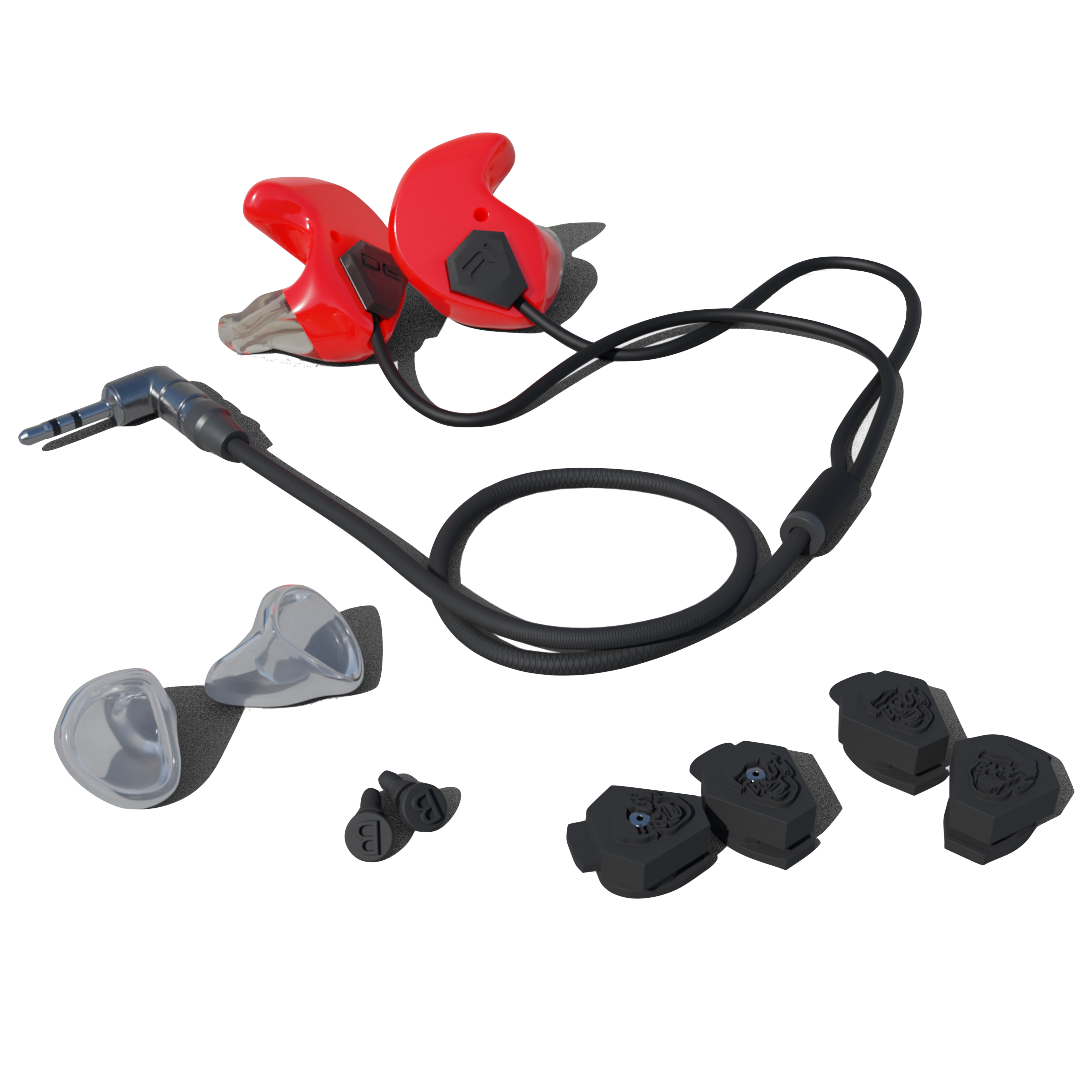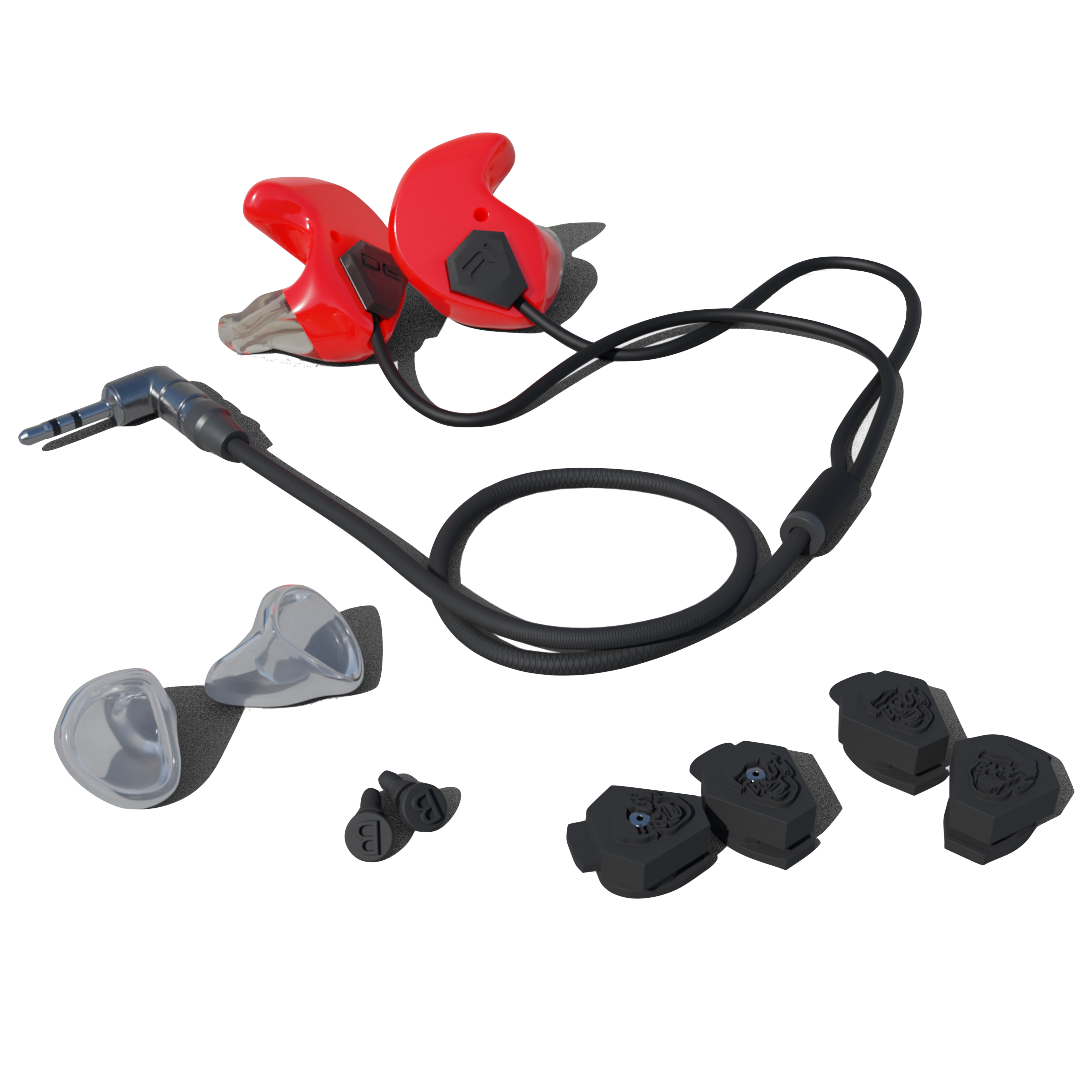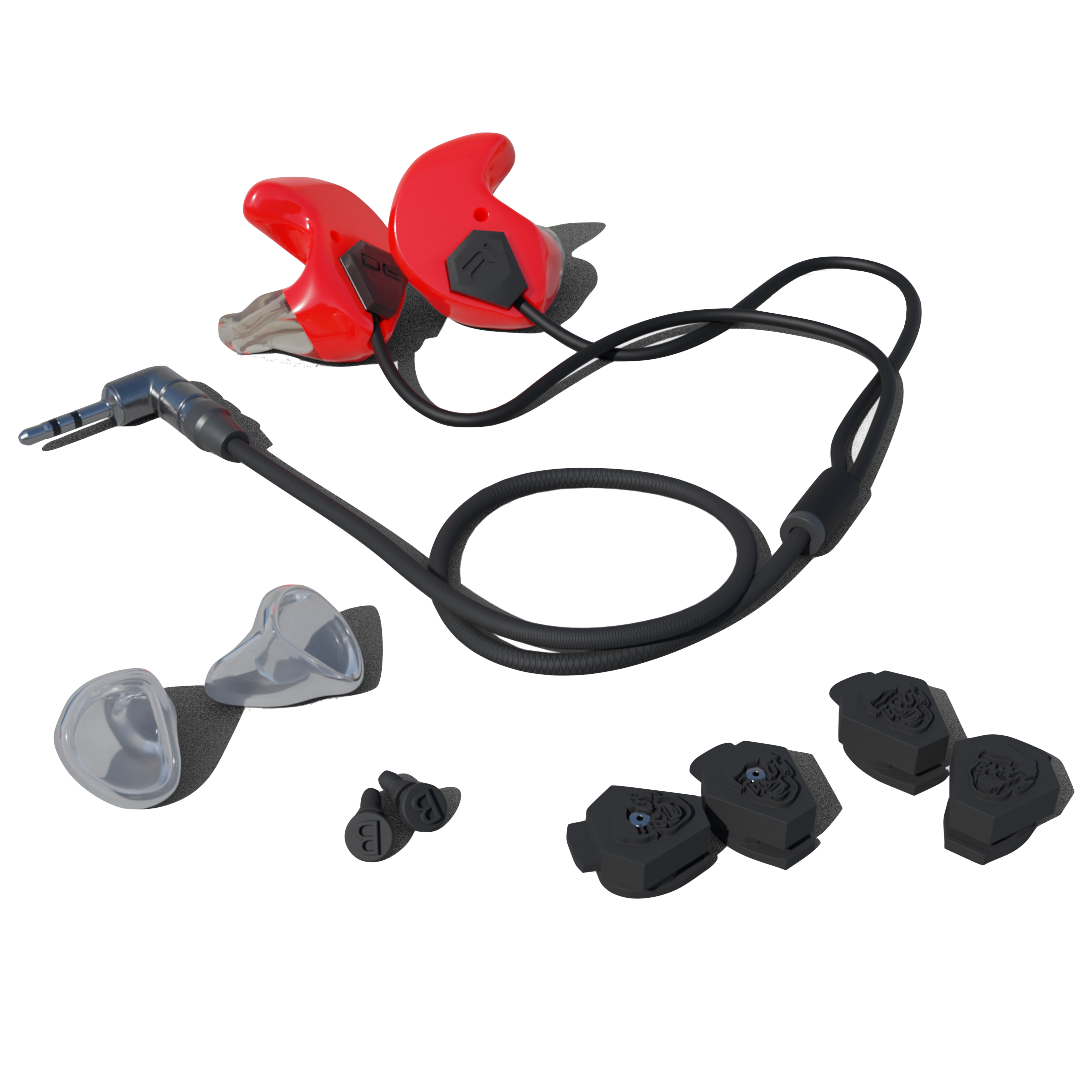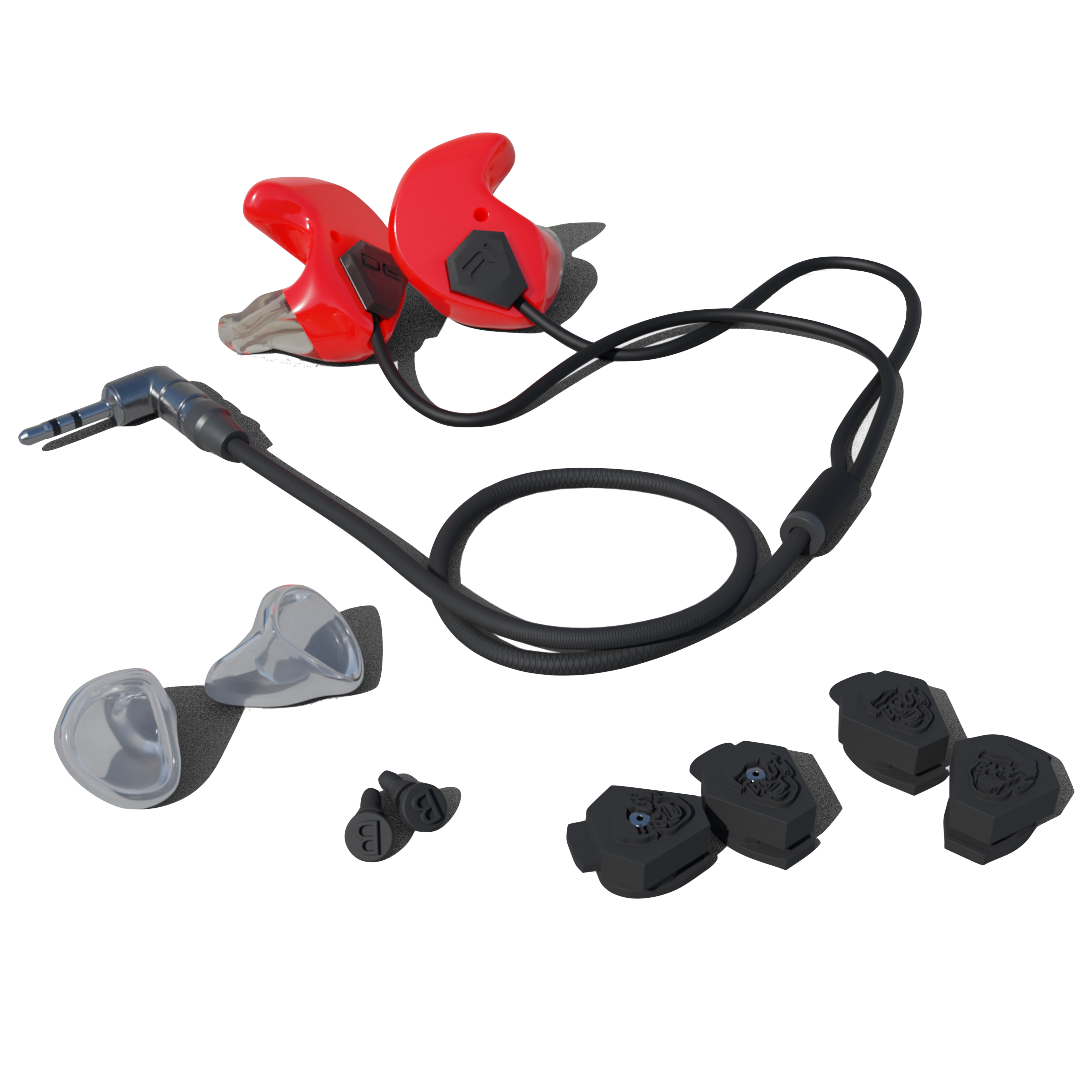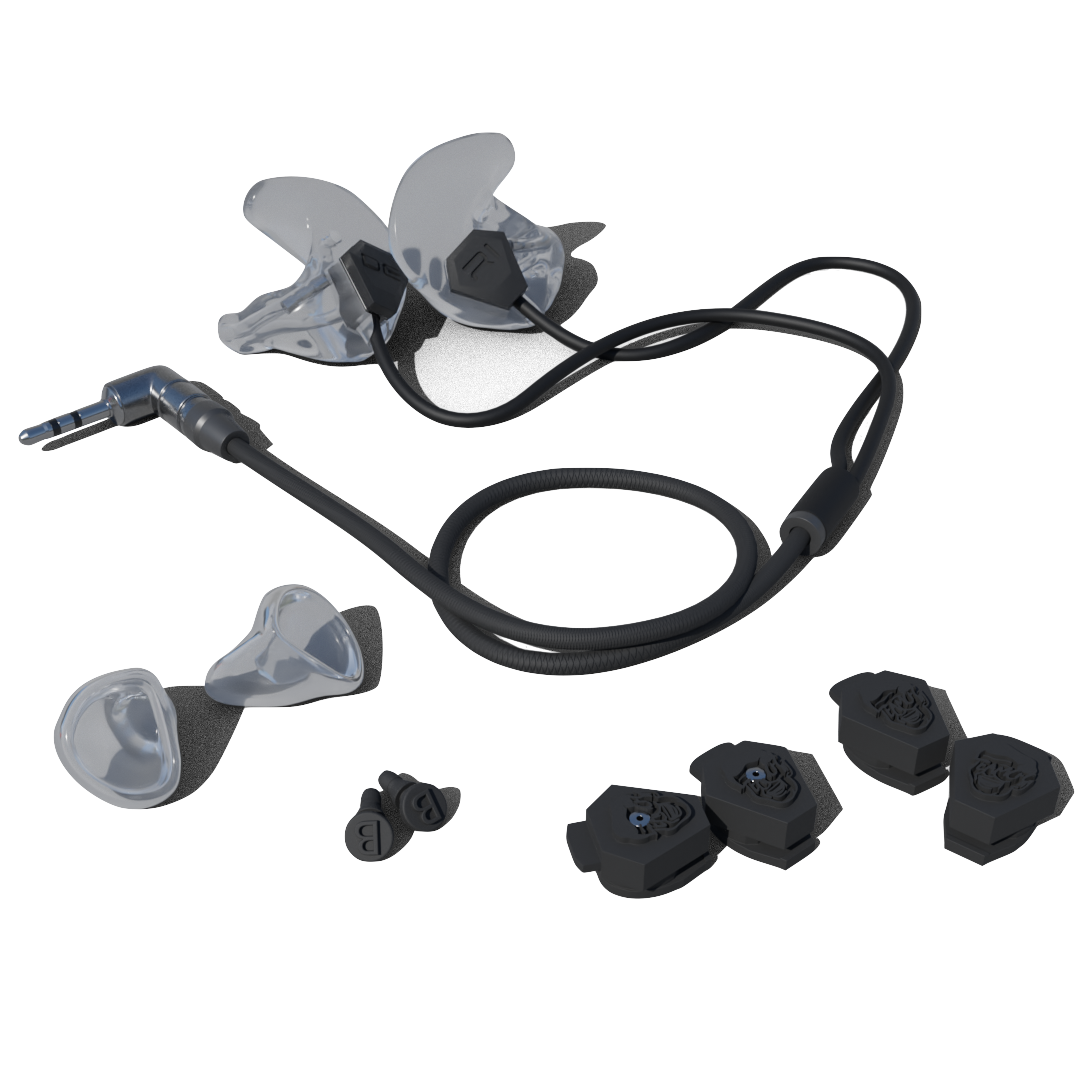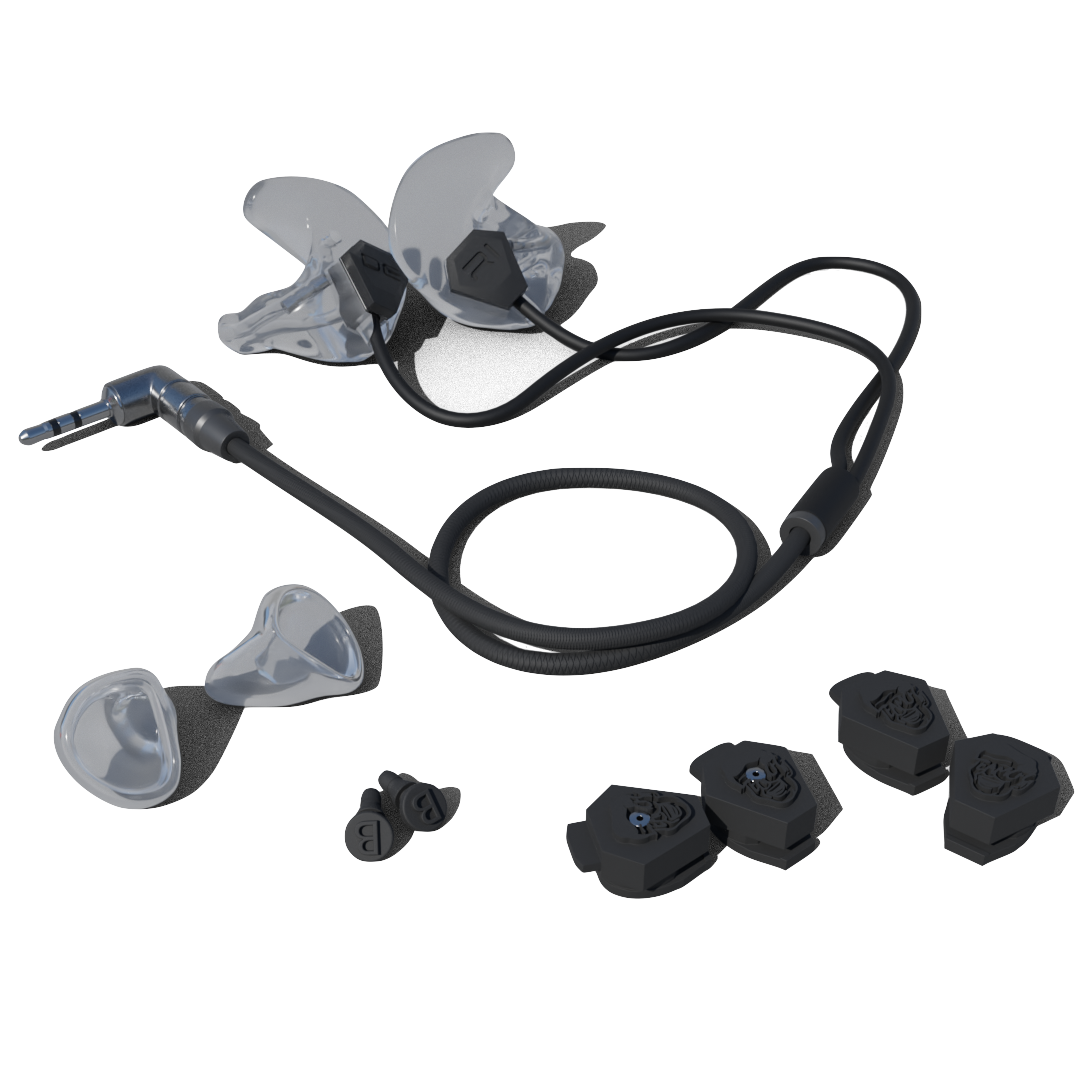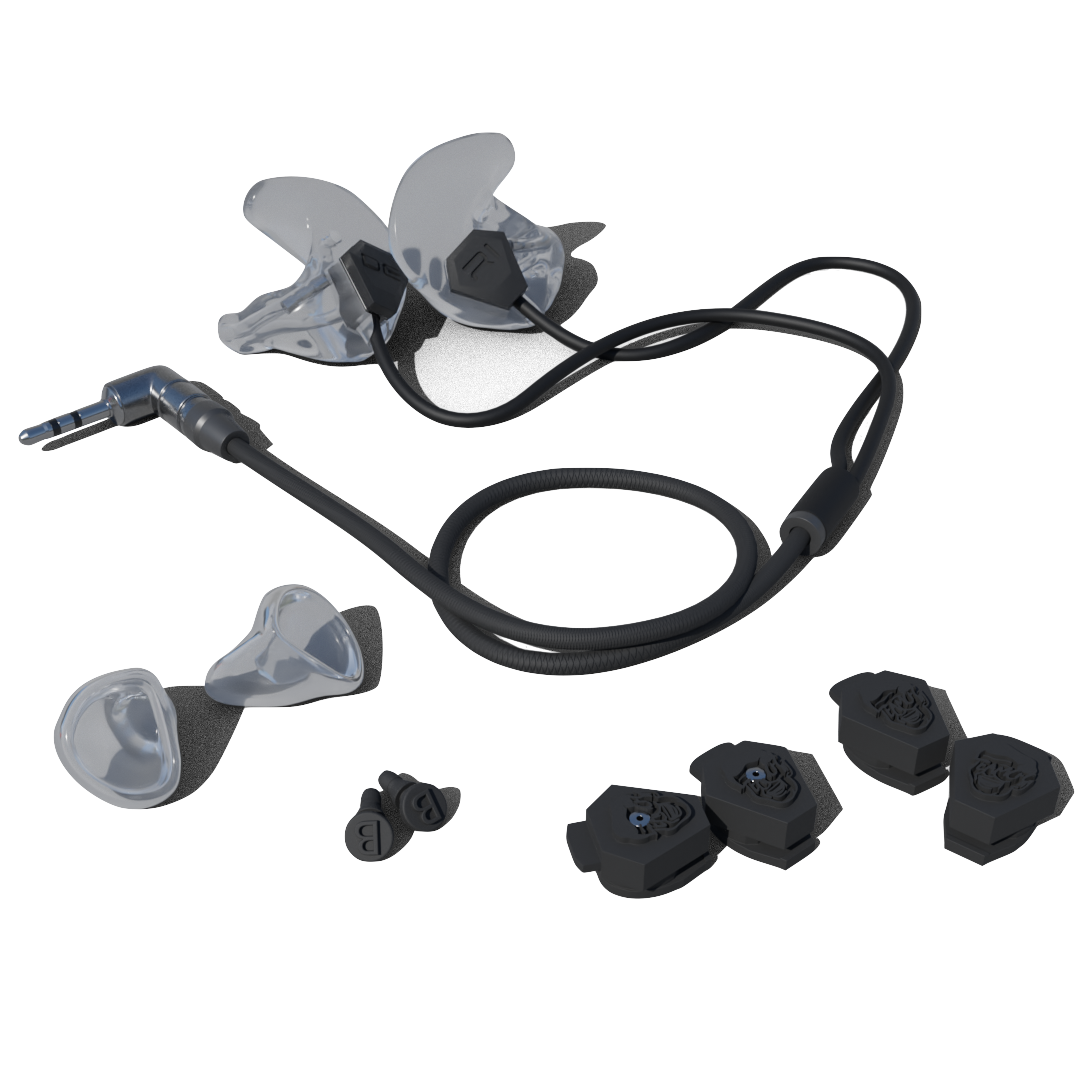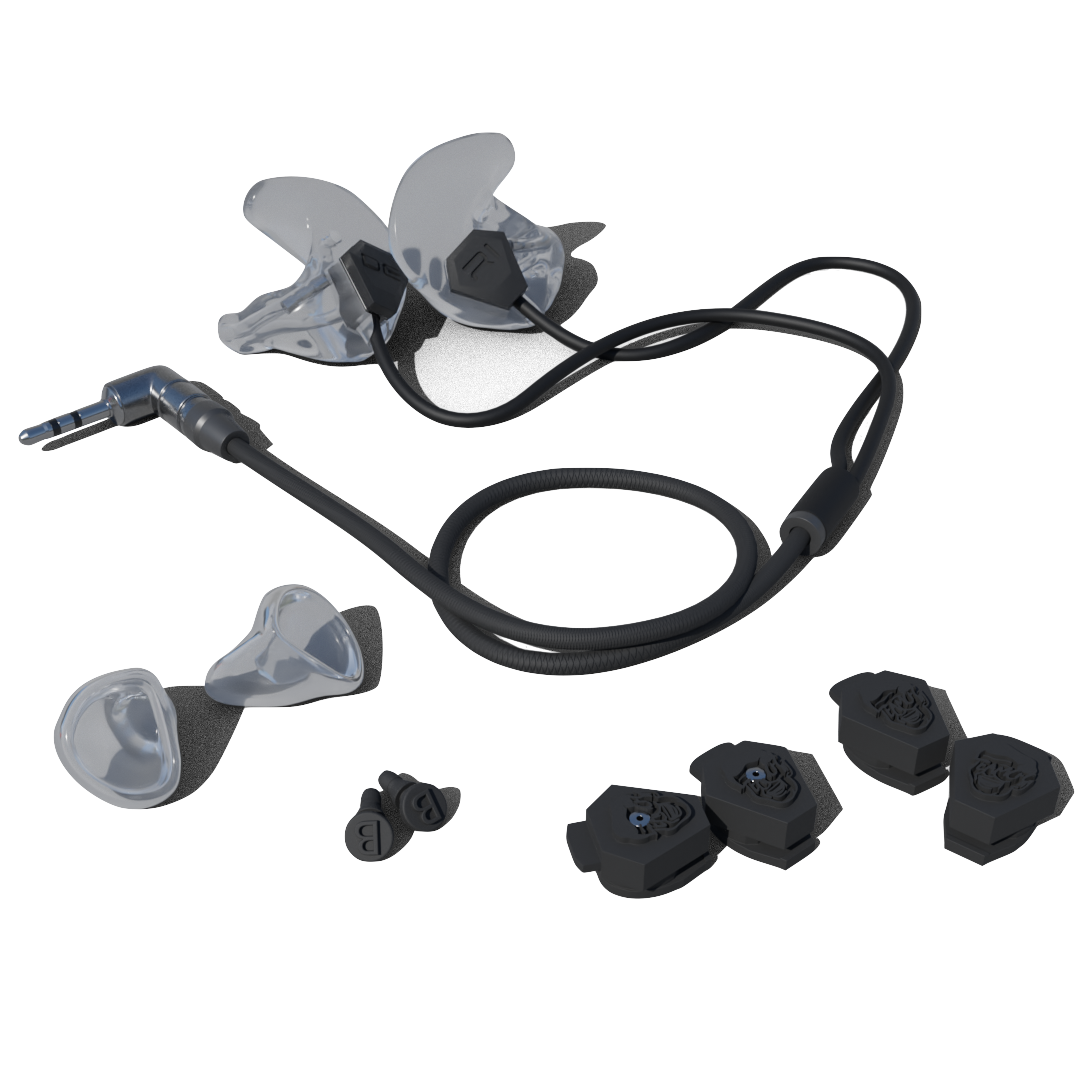 The CF TOUR PACK compromises what every a motorcyclist would need on tour - CF Ride with Filter and Shortened Cable, CF Sleep, Block Module, Filter Module, Block Filter. Please see all the products details below - 
CF Ride -  of a detachable cable system allowing the user to have a custom earphone when wanting to connect to Intercom Systems, SatNav and Mobile Phones. The cable unit can then be detached giving a custom earplug, great for quick journeys. This also allows for great flexibility and future proofing as you can swap cables subject to use.

It uses a shortened kevlar coated cable of a 60cm with textile sheath for great comfort even when worn underneath clothing. Stranded wires make up this cable for amazing strength.
The custom earphone is shaped to be flush for comfort underneath a helmet. It is made of a 25 Shore soft silicone ear canal tip going into the inner ear and a 40 Shore outer shell to give ultimate comfort whilst being worn underneath a helmet.
The Ride filter is included as it allows the user to maintain ambient awareness for example - Traffic, Emergency Services, Internal Helmet Speakers and some Engine Noise whilst dampening high frequencies like wind noise.
Speakers -  All speakers are housed within the detachable unit which allows for the use of vented speakers (allows air in and to around the speaker). This is very advantageous for the best sound definition and quality possible. Choose how many speakers you can have subject to your needs - 
Single - Great for using for general communication on Intercom, SatNav and Mobile Phone.
Dual - Comprising of one woofer and one tweeter. This splits both bass and treble into two designated speakers. Widening the sound stage and giving amazing definition in sound. – Most Popular.
Triple - Compromising of one large woofer and a dual tweeter. This gives more mids and separation between treble and bass, a perfect choice if you're looking for even more added detail and natural sound.
Quad - An assembly of a dual woofer and a dual tweeter. This is the most used by customer who are avid music listeners and audiophiles, incredible headroom, huge soundstage and depth and sound.
CF Sleep - Ideal for dampening sounds that are preventing you from sleep. Great if you happen to be rooming with a snorer. It is cut for amazing fit including when sleeping on your side, we also manufacturer the CF Sleep from the most soft 25 shore silicone.
Block and Filter Module -  This means you can fully remove you cables and swap either a Ride Block Module or a Ride Filtered module. It gives the ability to have an earphone product one day and then a custom ear plug the next, choose between the filter or block subject to how much low level sound you wish to block out, both will dampen wind noise. Amazing versatility in one product by Custom Fit Guards.
Block Filter -This gives the ability to dampen more sound when already having the filter in the CF Ride. This is place behind where the filter sits in the CF Ride custom mould. 
Build Material – 25/40 Shore Medical Grade Silicone High Frequency Passive Filter Detachable Cable Mould Type – Full Concha Left/Right Ear Indication Dots Colour – Clear, Orange, Black, White, Blue, Red (free of charge) Driver Type - Single (£209) Dual (£269) Triple (£339) Quad (£389) Filter - £20
Custom Moulded CF Ride (pair) CF Sleep (pair) Filter (pair) Block Filter (pair) Filter Module (pair) Block Module (pair) Custom Fit Guards Pocket Pouch User Guide Wax Pick 1 Year Warranty
EAR IMPRESSION SERVICES
How it works in 3 easy choices
HQ Appointment

Book an appointment to come for
an ear fitting at our lab in Southam,
Warwickshire.

Open Mon-Fri 8:30am - 4:30pm

Free of Charge

**SEPTEMBER DATES BELOW**

Cheshire - Merseyside - Greater Manchester - Staffordshire - Cumbria - Lancashire (16/09/2023)

Yorkshire - Derbyshire - Nottinghamshire - North Lincolnshire - Tyne & Wear - Northumberland - Durham (17/09/2023)

Leicestershire - Warwickshire - Oxfordshire - Buckinghamshire - Wiltshire (24/09/2023)

Wales - Gloucestershire - Herefordshire - Shropshire - West Mids (24/09/2023

**OCTOBER DATES BELOW**

South Lincolnshire - Norfolk - Peterborough - Suffolk - Cambridgeshire - Northamptonshire - Bedfordshire - (07/10/2023)

Kent - Essex - Sussex - Hertfordshire - (08/10/2023)

Berkshire - Greater London - Hampshire - Surrey (14/10/2023)

Cornwall - Somerset - Devon - Dorset - Bristol(15/10/2023)

Cheshire - Merseyside - Manchester - Staffordshire - Cumbria - Lancashire - Tyne & Wear - Northumberland(21/10/2023)

Yorkshire - Derbyshire - Nottinghamshire - North Lincolnshire - Durham (22/10/2023)

Leicestershire - Warwickshire - Oxfordshire - Buckinghamshire - Wiltshire (28/10/2023)

Wales - Gloucestershire - Herefordshire - Shropshire - West Mids (29/10/2023

Home Service
*Most Popular*

If you are based in England, Scotland or Wales,
then click the "Home Service" option
and we come directly to your home
for a fitting.

Please see dates below for when
we are next in your area.

+ £35

**SEPTEMBER DATES BELOW**

Cheshire - Merseyside - Greater Manchester - Staffordshire - Cumbria - Lancashire (16/09/2023)

Yorkshire - Derbyshire - Nottinghamshire - North Lincolnshire - Tyne & Wear - Northumberland - Durham (17/09/2023)

Leicestershire - Warwickshire - Oxfordshire - Buckinghamshire - Wiltshire (24/09/2023)

Wales - Gloucestershire - Herefordshire - Shropshire - West Mids (24/09/2023

**OCTOBER DATES BELOW**

South Lincolnshire - Norfolk - Peterborough - Suffolk - Cambridgeshire - Northamptonshire - Bedfordshire - (07/10/2023)

Kent - Essex - Sussex - Hertfordshire - (08/10/2023)

Berkshire - Greater London - Hampshire - Surrey (14/10/2023)

Cornwall - Somerset - Devon - Dorset - Bristol(15/10/2023)

Cheshire - Merseyside - Manchester - Staffordshire - Cumbria - Lancashire - Tyne & Wear - Northumberland(21/10/2023)

Yorkshire - Derbyshire - Nottinghamshire - North Lincolnshire - Durham (22/10/2023)

Leicestershire - Warwickshire - Oxfordshire - Buckinghamshire - Wiltshire (28/10/2023)

Wales - Gloucestershire - Herefordshire - Shropshire - West Mids (29/10/2023

Local Audiologist

We find a local audiologist
from our UK and worldwide database
to get your ear impressions taken.

For international customers or if options
1 or 2 are inconvenient.

+ £35 - £50 (Fee paid to Audiologist)

**SEPTEMBER DATES BELOW**

Cheshire - Merseyside - Greater Manchester - Staffordshire - Cumbria - Lancashire (16/09/2023)

Yorkshire - Derbyshire - Nottinghamshire - North Lincolnshire - Tyne & Wear - Northumberland - Durham (17/09/2023)

Leicestershire - Warwickshire - Oxfordshire - Buckinghamshire - Wiltshire (24/09/2023)

Wales - Gloucestershire - Herefordshire - Shropshire - West Mids (24/09/2023

**OCTOBER DATES BELOW**

South Lincolnshire - Norfolk - Peterborough - Suffolk - Cambridgeshire - Northamptonshire - Bedfordshire - (07/10/2023)

Kent - Essex - Sussex - Hertfordshire - (08/10/2023)

Berkshire - Greater London - Hampshire - Surrey (14/10/2023)

Cornwall - Somerset - Devon - Dorset - Bristol(15/10/2023)

Cheshire - Merseyside - Manchester - Staffordshire - Cumbria - Lancashire - Tyne & Wear - Northumberland(21/10/2023)

Yorkshire - Derbyshire - Nottinghamshire - North Lincolnshire - Durham (22/10/2023)

Leicestershire - Warwickshire - Oxfordshire - Buckinghamshire - Wiltshire (28/10/2023)

Wales - Gloucestershire - Herefordshire - Shropshire - West Mids (29/10/2023